Reducing the number of fields on a form can drastically improve your conversion rate.
Let's take a look at how you can improve the forms on your site.
Keeping the number of fields to a minimum is key.
Forms on your site can vary in purpose, but a long form with 20 fields to fill out may turn people away. If you ask too many questions it may feel like it is too much work to fill out.
Asking too much personal information
People don't like to give out their phone number. They may be afraid you are going to harass them with multiple phone calls, so ask yourself if you really need it. If you are just trying to grow your newsletter, chances are you can do without the phone number field.
There have been many studies that show keeping the forms short leads to more conversions.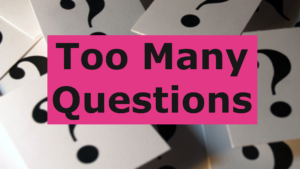 Reduce the friction by keeping things simple
Throughout your sales funnel on your website, you want to make it as easy as possible for someone to take that next step with little friction. It is tempting to add questions such as "How did you find us?", but that is not a necessary field. Couldn't you just ask them when you make that initial contact?
I know I have been in the process of filling out a form to get some information I was interested in, and left because of a required phone number field. How many leads are you losing because of unnecessary information you are trying to collect.
Is your form working?
Are you getting the emails when someone submits a form from your website? Test it yourself. If you have been receiving several leads a day and suddenly a week has gone by without one, it is time to check the form.
Test the form yourself. If you are using WordPress, most form plugins give you a green "Email was sent" notification to let you know the form submitted correctly. If you do get an error, it can help you identify what the problem is.
Possible reasons your form is not working:
The form plugin needs an update
If you are using a SMTP plugin to send your WordPress emails through a 3rd party like Gmail, did you change your Gmail account password? This could stop this from working correctly.
The "from" email the form is sending from doesn't match your domain. WordPress doesn't like if your "Send From" email isn't a domain email that matches the website URL.
If the form is submitting fine but you aren't receiving the email, check your Junk or Spam folder and white list the email.
If none of these are the problem, you may need to contact your hosting company. It is possible the mail server is having an issue.
Take the time to re-evaluate the forms you have on your site.
How can you make the form as minimal as possible and only gather the necessary information like email, name, phone number, and a comment field. Instead of the comment field just having "Comments" above it – try "How can we help you?" This gives them the opportunity to give you as much information as they like in one field rather than 5 more fields of questions like "Pick the services you are interested", "Alternate phone number", etc. You might think you are making it easier for them, but you are also making the form unnecessarily complicated.
Your assignment:
Look over the forms on your site.
Can you reduce the information you are collecting?
What fields do you consider critical?
Check that you are actually receiving the emails from a submitted form.