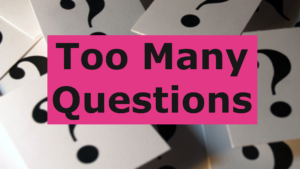 Reducing the number of fields on a form can drastically improve your conversion rate.
When it comes to website forms, simplicity is key. A long form with too many fields can overwhelm visitors and discourage them from completing the process. In fact, studies have shown that reducing the number of form fields can lead to higher conversion rates. In this article, we will explore the importance of keeping forms concise and provide practical tips to improve the forms on your website.
Consider the following points when evaluating your form fields:
The Impact of Asking Too Many Questions
Forms on your site serve various purposes, such as lead generation, newsletter sign-ups, or contact inquiries. However, bombarding visitors with an excessive number of questions can be counterproductive. It creates a perception that filling out the form requires too much effort, leading to higher abandonment rates.
Asking for Unnecessary Personal Information
When designing your forms, it's important to consider the type and amount of personal information you request from users. For example, asking for phone numbers might make visitors uncomfortable, as they fear potential harassment or unsolicited calls. Therefore, it's crucial to question the necessity of each field. If you're solely interested in growing your newsletter, omitting the phone number field may be a wise choice.
Studies Support Short Forms
Numerous studies have confirmed that shorter forms tend to yield better conversion rates. By reducing the number of fields, you decrease the perceived effort required from users, making it more likely for them to complete the form. Remember, your goal is to minimize friction and streamline the user experience.
Reducing Friction with Simplicity
Throughout the sales funnel on your website, your aim should be to simplify the user journey and minimize friction. While you might be tempted to include additional questions such as "How did you find us?", it's often unnecessary. Instead, consider asking such questions during the initial contact with the prospect, allowing for a more personalized conversation.
It's important to acknowledge the potential leads you might be losing due to unnecessary information collection. Imagine yourself in the shoes of a user who abandons a form due to a required phone number field. By critically evaluating the forms on your site, you can optimize them for better conversion rates.
Ensuring Form Functionality
Apart from the number of fields, it's crucial to ensure that your forms are working properly. Here are some steps to take:
Test the Form Yourself
Submit a test form and check if you receive the confirmation email. If you're using WordPress, many form plugins provide a green "Email was sent" notification to confirm successful submission. Should an error occur, this will help you identify the issue and rectify it promptly.
Possible Reasons for Form Failure if using WordPress
Several factors can lead to form submission failure. Consider the following possibilities:
Outdated Form Plugin: Ensure that your form plugin is up to date. Regularly updating plugins is essential for maintaining their functionality.
SMTP Plugin Configuration: If you use an SMTP plugin to send WordPress emails through a third-party service like Gmail, changing your Gmail account password can disrupt the functionality. Verify the configuration to ensure proper functioning.
"From" Email Address: WordPress prefers "Send From" email addresses that match your domain. If the email address doesn't align with your website URL, it might cause issues. It doesn't have to be a real email, so you can always use noreply@yourdomain.com.
Check Spam or Junk Folders: Sometimes, emails from form submissions can end up in spam or junk folders. Ensure you regularly check these folders and whitelist the email address to prevent this.
Contact Hosting Company: If none of the above solutions work, contact your hosting company to inquire about any potential mail server issues.
Time To Evaluate Your Forms
Now that you understand the importance of reducing form fields and ensuring their functionality, it's time to complete your assignment:
Review Your Forms
Thoroughly analyze the forms on your website. Determine if you can reduce the information you are collecting without sacrificing your objectives. Look for opportunities to streamline and simplify the form fields.
Identify Critical Fields
Identify the essential fields necessary to accomplish your goals. Focus on capturing vital information, such as email, name, and any other key details relevant to your specific needs.
Test Form Submission

Submit a test form and verify that you receive the confirmation email. Check for any errors or issues that may hinder the form's functionality.
By implementing these steps, you can optimize your website forms to improve user experience, increase conversions, and effectively capture valuable leads. Remember, simplicity and functionality are key factors in creating successful online forms.