How can we make it easier for website visitors to find what they're looking for?
You will want to minimize the number of top level tabs you have in your navigation bar while adding supporting pages underneath the appropriate tab.
Typical top level tabs include
Home
About
Services or Products
Testimonials
Blog
Contact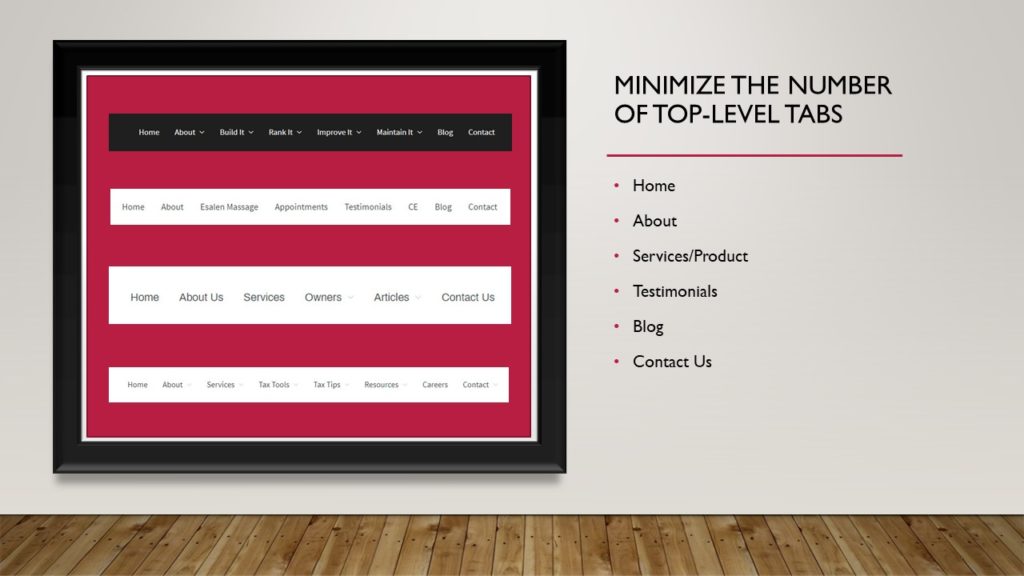 When you try to cram too many items in the top level navigation bar it makes it harder for users to find what they're looking for. Too many choices can overwhelm visitors and result in their leaving the site. Take the time to organize the navigation and drop down choices so it's easy for visitors to find the information they're looking for quickly.
On my own website I've chose to show the categories of the services I offer and have the supporting pages underneath. I felt like that was more important for my particular situation. I moved my "Testimonials" page under the "About" tab.
Make your contact information easy to find
It's important to have a clear way for people to get in contact with you. Include your contact page as the last item in the navigation.
Using resource pages
If you have a lot of content on your website, using resource pages that link out to your important content might be a solution that works for you. That is a better choice than cramming in too many pages in a drop down menu.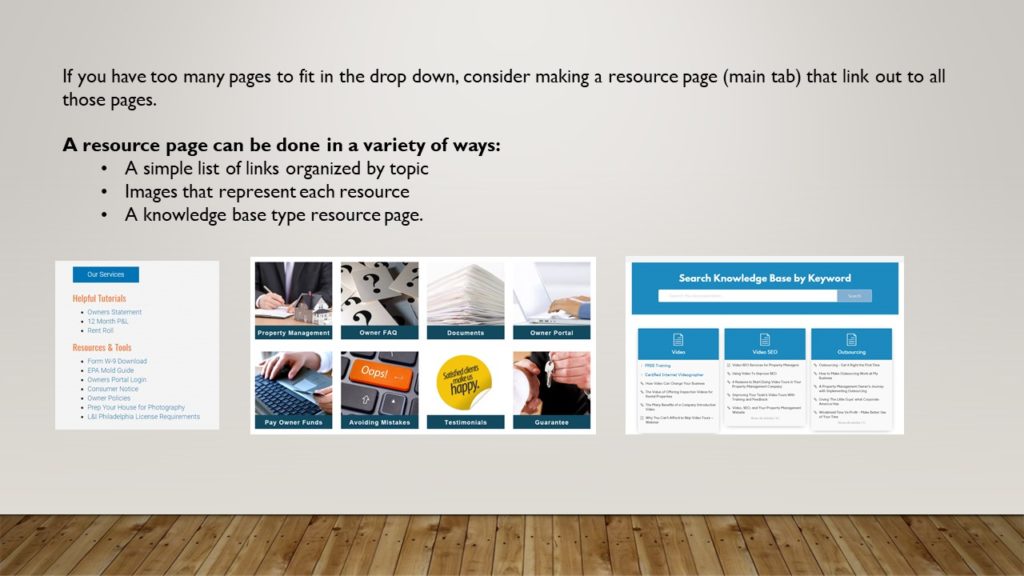 Revisit your navigation menu
Your assignment is to step back and evaluate your navigation menu as if you were a first time visitor.
Is there a clear path to the information they are looking for? You want to get them to the information they seek in 2-3 seconds or they will leave.
If you have several types of visitors, is there a clear path for each type?
How are your top level tabs? Are they organized in a logical way based on what you are offering?
Do you have 10 pages in your drop down? Could you instead offer a resource page and link to them from there?
Do you have a clear way for them to contact you (via email, phone or form)?