Do you have clear Call to Actions on your website?
What is the goal of your website, and how are you directing visitors to this goal?
Purpose of a CTA (Call to Action)
A CTA encourages your website visitors to take a specific action. That might be anything from buying a product to filling out a form to request some information.
Your CTA should:
Grab attention
Tell the user what they will get when they click the button
Guide the user to your next step in the sales funnel
CTA color
There is not a "best" color to use for CTAs.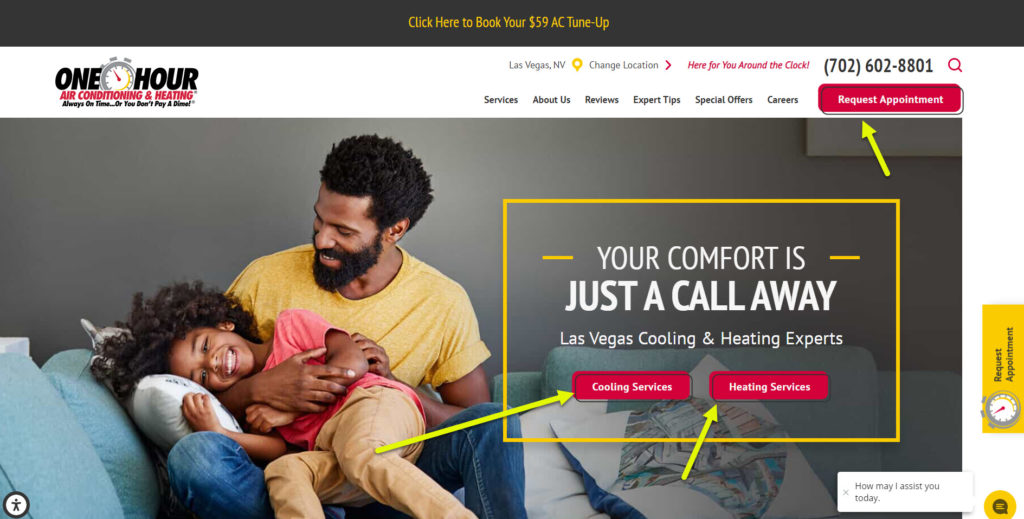 Contrast
You don't want your CTA to blend in with your site's color palette. Use a contrasting color to help it stand out on the page and grab attention. For example, if your color palette is shades of blue, try using green, yellow, or orange for your CTAs.
Consistency
Be consistent and use the same color for all your CTAs. This helps to clearly identify opportunities to click on the page.
Using wording to encourage clicks
The wording you use should encourage people to click your CTA while also telling them what to expect. Examples include:
Get my FREE ebook now
Sign up for the course
Subscribe to my newsletter
Start your Free Trial
Learn More about my consulting services
Get Started today
Join Now
Book an Appointment
Buy Now
Share on Social Media
Request a FREE ebook
Download Your eBook Now
How many CTAs should I use on a page?
That really depends on the purpose of the page and what your goal is. Don't give users too many choices. When faced with too many options, your visitors may feel overwhelmed or confused and just leave.
One clear CTA
There are situations when focusing on one CTA is best. For example, if you have a page describing the benefits of a product, you probably only want to offer a BUY NOW button on the page. You are convincing them to purchase the product, and you want their next step to be buying it. You can place your CTA button in several places on the page, but you are still offering one "next step" option.
Multiple CTAs
Sometimes you need to give visitors a few choices. However, try to not to offer more than 2 or 3 choices.
You may have several CTAs because:
You have several types of visitors on your site
You may have people at different stages of the buying cycle. Some might be ready to buy and some might need more information.
What is your Next Step? Where do you want visitors to go?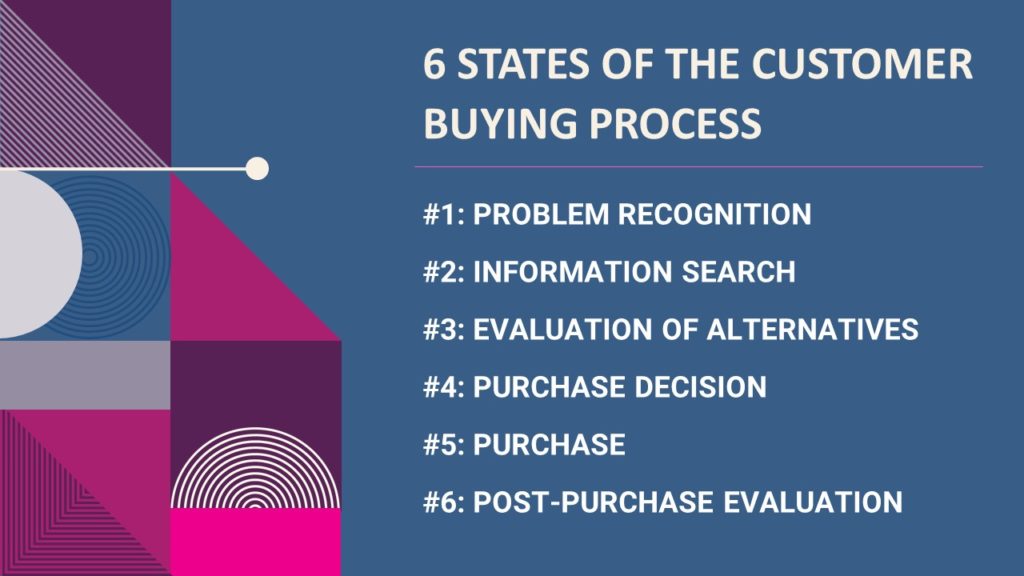 Your website should be guiding visitors through a logical path of pages that ends with your goal. Think about the buying process when you are deciding what type of CTAs you want to include on a page. This will help you decide where to lead your visitors next. What stage in the buying process are they in?
For a page providing detailed information on your product or service (steps #2- #4), your next step may be to send them to a purchase page or a place to schedule a service.
Button vs Link CTAs
Buttons stand out better. If you have internal links on your site, be sure to make your main CTA very clear. Internal links are an important SEO strategy but are not necessarily the main "next step" you are looking for the visitor to take. For this reason, your Call to Action button should stand out more than the links on the page.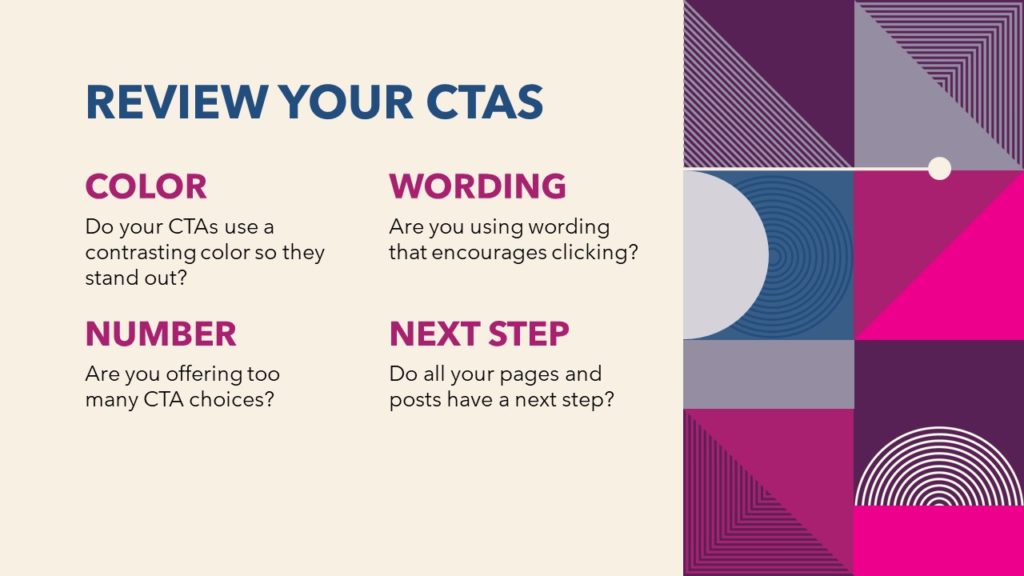 Analyze your website's CTAs
Do you have a CTA option for each type of visitor on your site?
Are you using a contrasting color?
Are you using wording that encourages someone to click the button?
Do you have the right number of CTAs on your pages and posts?
Are you leading people to your "next step" toward your goal?
Spend some time reviewing all the Call to Actions on your website and see if you can make any improvements.